Five Places You'll Find the Best Seafood in Greece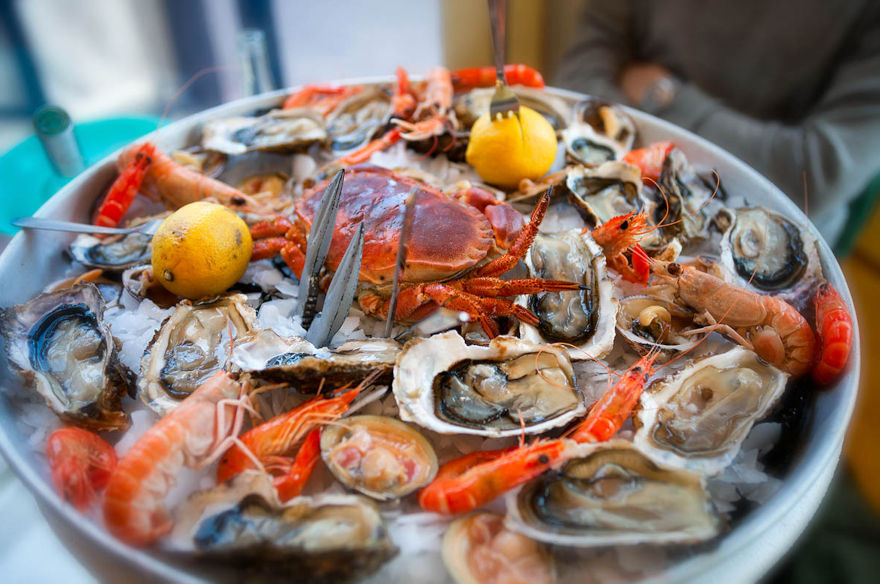 Ikaria - Calamari
Located in the far east of the Mediterranean, the island of Ikaria is one of the northern Aegean islands. Known as the 'island of long life', Ikaria is famous for the startling robustness of its inhabitants. The people of Ikaria live on average ten years longer than those living in the rest of Europe and America with lifespans that are dramatically longer than even their local Greek mainlanders. Could diet be the key? Generally Ikarians eat a plenitude of locally grown green vegetables and turn to the sea for protein. Ikarian calamari is a dish known across Greece for its incredible taste. Line-caught calamari is lightly battered, fried and served with a simple squeeze of lemon. One restaurant in particular, Karakas Fish Taverna at Karkinagri in southern Ikaria, stands out as a place worth visiting the island for and while there is little tourist infrastructure it is possible find property to rent or buy on Ikaria.
Santorini – White Fish
Once of the Cyclades islands, Santorini experienced a tourist boom around the 1980s that has lasted to present day but prior to that time the island was fairly isolated. Santorini didn't even have electricity until the 1960s. One of the main fish to come out of Santorini's clear blue waters is cod and over the years Santorinians have found many ways to prepare and eat this common white fish. Xelouistos cod is a favourite mezze dish and consists of uncooked cubes of fresh cod mixed into a tomato salad. Brandade salt cod is a less adventurous dish made from fried salted cod baked with garlic and tomato. Psarolia psita is a another local favourite that utilises smaller white fish that are sun-dried and served as mezze. In Santorini, Ammoudi Taverna on Oia waterfront comes highly recommended.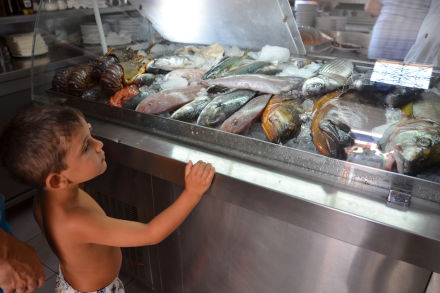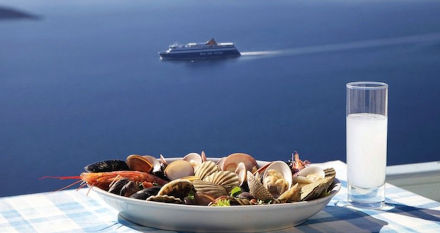 Lesvos – Sardines, Kolios and Octopus
The island of Lesvos is one of Greece's best destinations for seafood and is a popular place for older generations of expats to rent or buy villas. Also known as Lesbos or Mytillini, after its capital city, Lesvos is another of the north Aegean islands. Surprisingly, the humble sardine is one of Lesvos most beloved seafood snack. Although one of the cheapest fish to buy, sardines are also one of the healthiest, tastiest and most filling. In maritime villages all over Lesvos you will find tavernas serving dishes of grilled or fried sardines.
Similar to a sardine, kolios (mackerel) fish is also common and often prepared gouna-style, opened and dried in the sun with local herbs before being flash-grilled. Try this dish in the town of Pirgi Thermi. Locally caught octopus, which is growing more and more difficult to find in Greece, is found in Lesvos villages such as Skala Simamnias, Sigri and Plomari. In such villages, a washing line strung with octopuses drying in the sun is a common sight.
Kephalonia - Sea Bass
Kephalonia, an Ionian Island located to the west of the Greek mainland is Europe's finest producer of sea bass. Known in Greece as lavraki, sea bass is a culturally significant fish that features in one of Greece's most charming metaphors; to catch a lavraki means to have the scoop on a big story in the world of Greek journalists. In Kephalonia where lavraki is always on the menu it's common to eat the fish grilled. First the fish is butterflied and filled with a mixture of fresh herbs, garlic and olive oil before being wrapped in greaseproof paper and placed on the grill. Simple but delicious. Head to the village of Fiskardo, where fisherman pull a huge number of lavraki from the sea and deliver them to the best tavernas.
Around Athens – Everything!
Athens is home to a dizzying array of top-class restaurants that serve seafood pretty much any way you can imagine. But if you want traditional Greek seafood fresh from the sea then head for the harbour. Piraeus is Athen's port city and is located along the Athens Riviera, a stretch of Greek coastline known for its exquisite seafood restaurants and luxury rental properties. Michelin-starred Varoulko Seaside is known to many as Greece's top seafood restaurant and overlooks Mikrolimano harbour. As always, the catch of the day comes recommended. Margaro is another much-loved seafood restaurant in Piraeus, particularly by lovers of shrimp. Another great area to eat is seafood is Anavissos, a seaside town on the way to Sounion where you can follow the waiter into the kitchen to pick your own dinner.
For a more rustic experience, leave the Riviera behind and head back inland to the Plaka of Athens, a traditional enclave of tavernas that sits in the shadow of the Acropolis. Here you can try psarosoupa, Greek fish soup.
Bonus Delicacies to try
Salahi (skate), steamed with dill and onion from the island of Limnos.
Wild raw oysters from the island of Kimolo.
Koutsomoúra, small red mullet fish simply fried from Corfu.
Grilled octopus from the village of Perdika on the Saronic island of Aegina.