A Short Guide to Santorini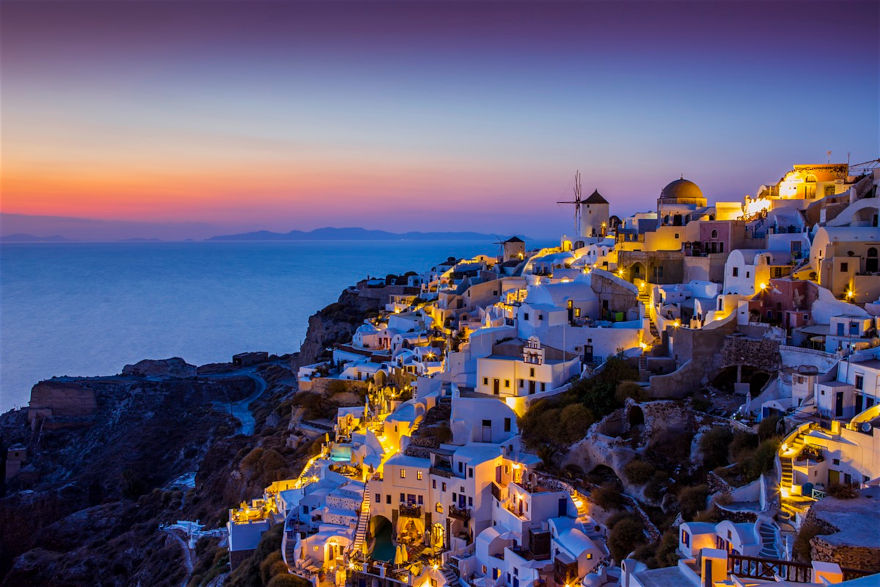 History and Geography
Humans have lived on the Cyclades islands since the year 7000 BC and marble figures dating back to 3000 BC offer convincing evidence that Santorini was home to a signficant bronze age civilisation. Minoan sea people later colonised the Cyclades islands but a volcanic eruption in the year 1613 BC destroyed their city on Santorini. Part of the Roman Empire, Byzantine Empire, Venetian Empire and Ottoman Empire, Santorini has had more than its fair share of colonisers but has a rich and colourful history to show for it.
The island of Santorini is what is known as a caldera. Santorini's land mass is the shape of an imperfect croissant from the air but, thousands of years ago, it was circular in shape. A massive volcanic eruption caused the centre of the land mass to sink leaving a crater along the east side. Santorini is essentially a volcano, although thankfully a dormant one.
When to Go
Located halfway between Athens and Crete, Santorini has a fairly standard Mediterranean season. Peak season kicks off at the beginning of April and lasts until around the end of September. Tourist companies generally recommend visiting during this period, which peaks in July and August, when it is most busy and most expensive. However, a visit during one of the shoulder seasons, late February to late March or late September to late October, is just as enjoyable if not quite so hot. If you're looking to rent or buy a villa on Santorini rest assured the island has a pleasant climate all year round.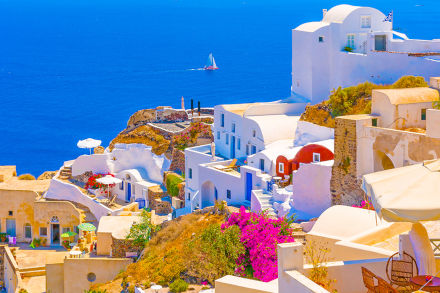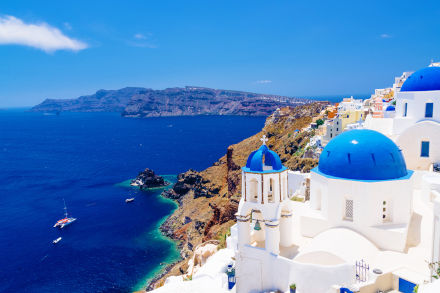 What to Do
Santorini's unique geography offers a wealth of activities for those who love the great outdoors. Strap on your hiking boots and tackle the almighty caldera edge for the best views of the entire island. Around the city of Fira you can also wander to nearby village settlements of Firostefani and Imerovgli. For a more challenging hike, continue on the 9km trail to Oia.
The history of Santorini is dramatic and unique and its worth spending an afternoon familiarising yourself with the island's ancient past. Visit Akrotiri, the ruins of a 3500-year-old Minoan town preserved in volcanic ash and then head to the Museum of Prehistoric Thira in Fira City where you can see artefacts taken from these ruins.
Santorini's beaches are well-known for their multi-coloured sand. On the east coast of the island, the beaches have black volcanic sand while on the south coast the sand tends to be red. Vlychada is known for being the islands only nudist beach while Red Beach in the south is renowned for its snorkelling.
Wine-tasting is one of the most enjoyable activities on offer on Santorini. Wines native to the island are refreshingly crisp white varieties and a sweet dessert wine known as Vinsanto. There are around a dozen vineyards on Santorini offering tasting sessions and many have bistros attached. Book yourself on a tour or organise your own being sure to stop by Santo Wines, Rousos Winery and Argiros Estate.
Where to Stay
Your decision on where to stay in Santorini is really a case of choosing between east and west. The main bulk of the hotels and vacation rental properties are located on the west of the island. The cliff tops of the caldera-edge are home to charming white-washed buildings that come with views to die for. Streets lined with upmarket hotels and restaurants connect Fira City and the neighbouring villages of Firostefani. You will be at the heart of Santorini culture and nightlife here but will pay more for the superior location.
By comparison the east coast is far less developed, far less touristy and, in some people's opinion, less happening than the west. However, the east coast's easily accessible volcanic beaches are a major draw and a number of family friendly resorts offer water-sports and all-inclusive hospitality.
Off the Beaten Track
For something way out of the ordinary, look for a rental villa or rental apartment in Santorini islands interior. The green heartland of the island is peppered with vineyards and traditional villages that take you beyond the tourist bustle of the coastline. The village of Pyrgos is particularly charming.
Many companies on Santorini will offer tours of the various attractions on the island but for a truly memorable trip take to the water and cruise to Santorini's sister islands Nea Kameni and Palia Kameni. Neither of the islands are inhabited but Nea Kameni features a spectacular crater and on Palia Kameni you can soak in a natural hot spring.
While Santorini is best known for its vineyards it is actually home to a micro-brewery called the Santorini Brewery Company. Stop by for free tastings.
Can you imagine anything better than watching one of your favourite movies outside on a crisp night on the Greek island of Santorini? Me neither. Santorini now has its own open-air cinema called CineKamari. Films start at 9.30pm so bring your own snacks and a blanket.